What makes Global Domains International a turn off to so many people today, is not the structure of their compensation plan, but the percentage the compensation plan pays to its members. With GDI's affiliate program, you get paid 10%, which is $1 per month in residual income, for every member referred by you. You can do the math for how many people it would take, to get you to $1,000 per month in residual income.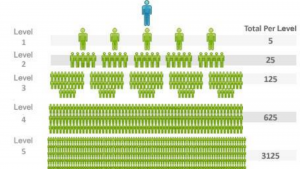 GDI also has a 5-level recruiting structure (as shown above), where you can recruit as many people as you want, on each level. Meaning when you refer a member, you not only get paid for their membership, but you also get paid when they refer someone, and when the next person refers someone, all the way down to the 5th-  level.
Now seeing that $1.00 per member in residual income is kind of low, GDI decided to have a bonus program. One that pays you $100 for every 5 people personally referred by you, within a 7 day time period. I would say that this incentive was what made this opportunity more attractive to many folks. Even more so to those who already know a thing or two about advertising and affiliate marketing, that is!